Kazan, June 1 - Neftegaz.RU.
The 75th Anniversary Celebration of NGDU Leninogorskneft was held in the online format. There were leaders, employees, veterans from different parts of the country totaling more than 400 people getting together in the virtual space.
Addressing the participants of the event from the site at the premises of the Oil Museum in Shugurovo near Leninogorsk, Nail Maganov, Director General of TATNEFT, mentioned that Leninogorskneft was the most "mature" Oil & Gas Production Division of the company.
The gush of oil struck in the midst of the Great Patriotic War in 1943 and thousands of tonnes of the Tatarstan oil received later became a significant contribution to the Victory. The Shugurovsky oilfield division was established on May 30, 1945 and this date is presently celebrated as the birthday of Leninogorskneft.
Leninogorsk oil workers stood at the origins of the TATNEFT association, as well as several of the company's upstream divisions, and contributed to the post-war reconstruction of the country and the transformation of
Tatarstan
into a powerful industrial center.
The NGDU fields are a testing ground for introducing advanced crude oil production technologies, as well as new ideas and scientific engineering developments, which were subsequently widely disseminated throughout the industry. The Division's experts were the authors of the center-to-edge waterflooding system of the field. They were also the 1st to carry out comprehensive automation and telemetry of oil fields, and to apply hydraulic fracturing, developed fundamentally new methods of paraffin deposits control, etc.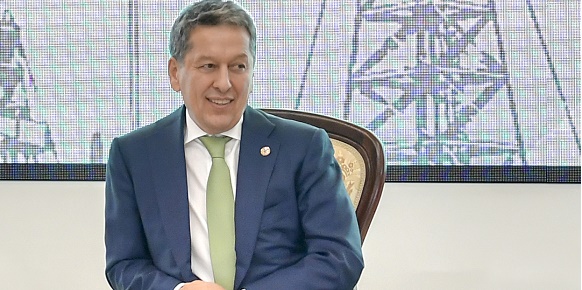 Nail Maganov
emphasized that people remained the main management value today: skilled workers, competent professionals, talented managers who became the creators of the latest company's history. He thanked the staff for their diligent work, wishing them new labor achievements, optimism and confidence in the future.
Veterans of the enterprise, Ryagat Khusainov, Head of the Leninogorsk Municipal District, Gumar Yarullin, Chairman of the
TATNEFT
's Trade Union Committee, and representatives of the NGDU team addressed the audience. The program included concert performances that created the atmosphere of a real holiday.
After the end of the online communication, Nail Maganov, accompanied by the management of NGDU, visited the main exposition venue of the open-air museum park: a smelter, a blacksmith's shop and a locksmith's workshop.
Maganov said: "I think there is no better place to celebrate the anniversary of the NGDU Leninogorskneft than the Oil Museum. Here we are literally immersed in the history of our oil region from the very first mention of the Tatar oil, the first attempts to extract and process it to the present day. We see with our own eyes how the oil industry of the Republic was developing and strengthening. And the glorious 75-year history of Leninogorskneft occupies an important place in this annals".