St Petersburg, December 21 - Neftegaz.RU.
The keel for the 5th Project 22220 nuclear icebreaker Chukotka was laid at the Baltic Shipyard. R. Kopin, the Governor of Chukotka, A.Likhachev, Director Gen. of Rosatom, E. Elin, Vice Governor of St.Petersburg, V. Ruksha, Director of the
Northern Sea Route
Directorate of Rosatom, V. Egorov, Deputy Director of nuclear ships Department of Russian Maritime Register of Shipping, D.Adamia, VP of the United Shipbuilding Corporation, M. Kashka, Director General of Atomflot and A.Kadilov, Director Gen. of the Baltic Shipyard attended the ceremony.
A. Likhachev
noted:
The new series of icebreakers is a triumph of engineering thought.
These are the most powerful and most efficient icebreakers on the planet today.
We are proud with the constant increase in the share of the Russian components.
I am sure that there will be a lot of new innovative solutions in the future,".
Traditionally, a storm board was installed on the bottom of the vessel.
Operational commissioning of the nuclear icebreaker Chukotka is scheduled for December 2026.
The contract for the construction of the 3
rd
and 4
th
serial
nuclear icebreakers
was signed between Atomflot and the Baltic Shipyard in August 2019.
The contract value is RUB 100 billion.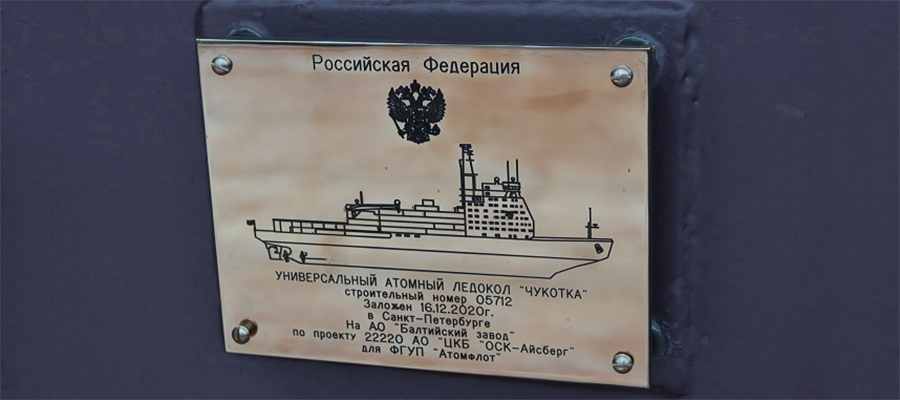 The 4
th
serial nuclear icebreaker Chukotka:
is designed for independent pilotage of ships, including large-capacity ones, and for leading the fleet in the Western Arctic region.
the vessel's dual-draft concept allows for operating it both in the Arctic and in the mouths of the polar rivers, in particular in shallower areas of the Yenisei estuary and the Ob Bay area.
is equipped with specially designed 2 new generation RITM-200 reactors and a steam turbine unit with an overall power capacity of 175 MW. RITM-200 is an innovative and unique design developed by of one of the oldest design bureaus of the nuclear industry - OKBM Afrikantov.
The rich experience of the construction and operation of reactors for nuclear icebreakers as well as modern trends of the world nuclear power engineering were the basis for the design of RITM-200:
includes 2 reactors with the capacity of 175 megawatts each.
RITM-200 is almost twice as light and compact as previous reactors, therefore it is cheaper in terms of material intensity and takes less space on the vessel and thus more economically efficient.
The 1
st
serial nuclear icebreaker Sibir , the 2
nd
serial nuclear icebreaker Ura and the 3
rd
serial nuclear icebreaker
Yakutia
are under construction at the Baltic Shipyard.