Crude was discovered in the main oil-saturated Pashiyskian deposits of Devonian horizons in Romashkino
field
in 1948.
The development and expansion of oil prospecting works and the construction of the oil field have become the starting points for creation in Tatarstan of an oil base of the country – «the 2
nd
Baku».
Romashkino oil field is a platform type multilayer one.
It is the largest oil field of Volga-Ural basin, which is operated by TATNEFT.
Total area of oil saturated reservoir is about 4300 sq.km.
Geologic cross-section of the field is formed by Devonian, Carbonian and Permian deposits of total thickness about 1500 m.
Of this value 75% accounts for carbonate and 25% for terrigenous rocks.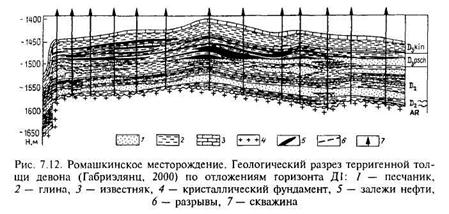 Since its commissioning, the Romashkino field had produced over 15 billion
barrels
(2.4×109 m3) of oil.
Statistic analysis predicted depletion at 16.5 to 17.2 billion barrels (2.62×109 to 2.73×109 m3).
However, advanced technologies allow for extraction of more oil.
The Romashklno field still remains, and will be the main oil generating field both for TATNEFT and for Tatarstan.
Results geologo-geophisical and scientific studies carried out on the territory of this unique field suggest that the field still has huge capabilities.
Prospects of incrementing mineral-resource base are associated with extensive use of existing wells and using the present-day methods of geological
exploration
.