Doha, February 9 - Neftegaz.RU.
State-owned energy company
Qatar Petroleum
took final investment decision on February 2021 on its North Field East (NFE) project and signed
EPC contracts
for the project's onshore infrastructure, including LNG trains.
NFE will boost Qatar's LNG production capacity to 110 million tonnes/year(TPY) by 2026.
The contract was signed by the Energy Minister of Qatar and the company´s CEO Saad Sherida Al-Kaabi, Kazushi Okawa, CEO of Japanese engineering group Chiyoda, and Arnaud Pieton, President of the French company Technip Energies.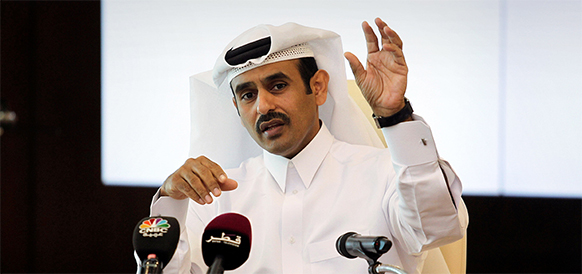 Al-Kaabi said at the signing ceremony:
The total cost of the NFE project will be $28.75 billion, making it one of the energy industry's largest investments in the past few years, in addition to being the largest LNG capacity addition ever and the most competitive LNG project in the world
This investment decision is a clear demonstration of the steadfast commitment by the State of Qatar to supply the world with the clean energy it needs
One of the most important environmental elements of the NFE project is its CO2 capture and sequestration (CCS) system that will be integrated with our wider CCS scheme in Ras Laffan, which - once fully operational - will be the largest of its kind in terms of capacity in the LNG industry and will be one of the largest ever developed anywhere in the world
In addition to the CCS scheme, the NFE project will have a number of elements that provide this project with a unique positive environmental proposition, such as a 'jetty boil-off gas' recovery system, which will help reduce greenhouse gas emissions by approximately 1mmtpy of
CO2
equivalent.
The project will also conserve 10.7mln m3 of water per year by recovering 75% of the plant's tertiary water and NOx
emissions
will be reduced by 40% through the application of enhanced 'Dry Low NOx' technology.
4 processing liquefaction plants will be constructed, each with the capacity to produce 8 million TPY of LNG.
With an expected production start date in 2027, the NFS project involves the construction of 2 additional mega
LNG
trains (with a capacity of 8 MMTPA each) and associated offshore and onshore facilities.