Turkish Stream is the replacement of the South Stream project (it was cancelled by Russia in December 2014), running along almost the exact same route.
TurkStream starts on the Russian coast near Anapa and comes ashore in the Thrace region of Turkey.
It consists of two 930-km offshore lines stretching from Russia to Turkey across the Black Sea, and 2 separate onshore lines that are 142 and 70 km long.
From the receiving terminal in the Turkish Kiyikoy, one of the two underground onshore
pipelines
connects to the existing Turkish gas network at Luleburgaz.
The other pipeline continues to the Turkish-European border, where it ends.
The 1
st
line of the TurkStream is intended for deliveries to the domestic market of Turkey, while the 2
nd
will bring
natural gas
to the countries of south-eastern Europe: Bulgaria, Serbia and Hungary.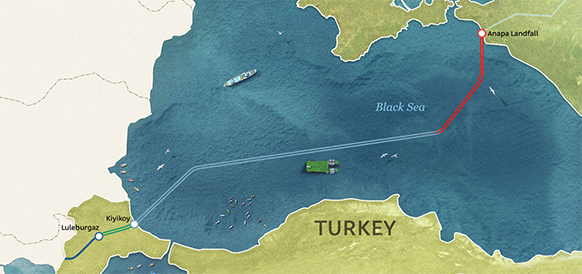 On December 1, 2014, Gazprom and Botas Petroleum Pipeline Corporation signed the Memorandum of Understanding to construct a gas pipeline running across the Black Sea toward Turkey.
In September 2016, Gazprom received 1
st
permits for the TurkStream project from the Turkish authorities.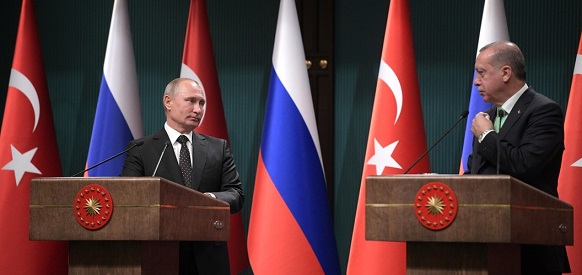 On October 10, 2016, Russian and Turkish Governments inked the Agreement on the TurkStream project. In December 2016, South Stream Transport B.V. and Allseas Group S.A. signed the contract to build the 1
st
string of the TurkStream gas pipeline's offshore section.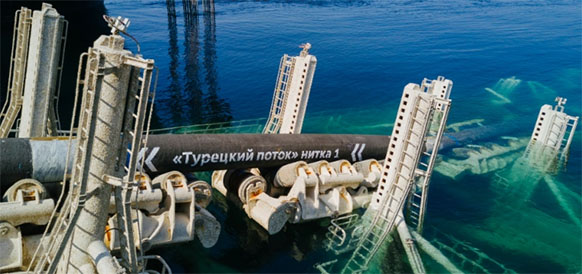 In February 2017, the companies signed a contract to build the 2
nd
string of the pipeline's offshore section.
On May 7, 2017, construction of the TurkStream gas pipeline was commenced in the Black Sea near the Russian coast.
The biggest construction vessel in the world, Pioneering Spirit, completed the construction of the 2 pipelines across the Black Sea over 15 months, adding new sections to the pipe string as it progressed.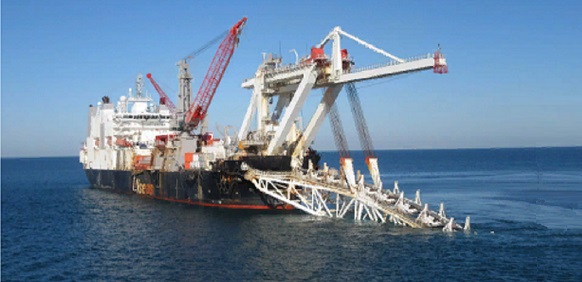 Operating around the clock, the vessel laid 5 km of pipeline each day on average.
In August 2018, it set a world record in the industry by constructing 6.3 km of the pipeline in a single day.
Offshore construction in the deep-water section was completed in November 2018.
Each of the 2 offshore pipelines of TurkStream is made up of thousands of individual pipe joints of 12 m length.
The pipes have been made from 39 mm of specially designed carbon manganese steel plates so that it can withstand the huge pressure under the sea.
Pipes laid in shallow waters closer to the shore have been coated in concrete for added stability and protection against marine activities.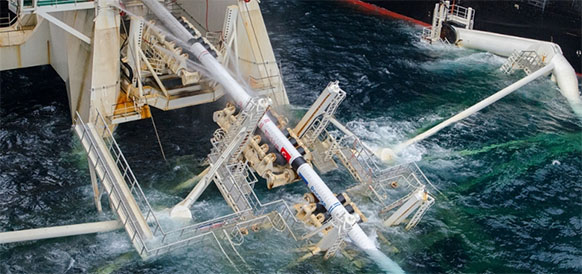 Commercial supplies via the gas pipeline commenced on January 1, 2020.
On January 8, the presidents of Russia and Turkey held a grand opening ceremony for TurkStream in Istanbul.
Over 1.32 billion cubic meters of Russian gas was transferred to Europe from Turkey via the TurkStream natural gas pipeline during the 1
st
quarter of 2020.
Bulgaria's onshore section of the TurkStream will be completed by the end of 2020.