He was born June 14, 1946, New York, U.S.
At the age of 13, his parents sent him to New York Military Academy where he performed well, both socially and academically; emerging as a star athlete and student leader by the time he graduated in 1964.
He was at Fordham University for 2 years before joining the Wharton School of Finance at the University Of Pennsylvania, from where he graduated in economics in 1968
As Trump evolved from real estate developer to reality television star, he turned his name into a brand.
During his business career, Trump has built, renovated, and managed numerous office towers, hotels, casinos, and golf courses.
He owned the Miss USA and Miss Universe pageants from 1996 to 2015, and has lent the use of his name in the branding of various products.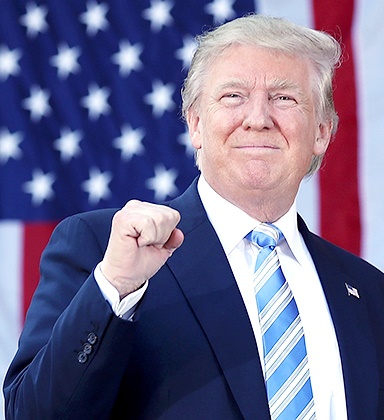 In June 2015, he announced his candidacy for the 2016 election, and quickly emerged as the front-runner among 17 contenders in the Republican primaries.
Trump won the presidential election on November 8, 2016, against Democratic rival Hillary Clinton, and assumed office on January 20, 2017.
As of 2016, Forbes listed him as the 324th wealthiest person in the world and 113th richest in the United States, with a net worth of $4.5 billion.
In 1977, he married Ivana Zelnickova and had 3 children from her.
In 1993, he married Marla Maples and they had 1 child.
In 2005, he married Melania Knauss. They have a son.