Vladivistok, September 5 - Neftegaz.RU.
During the 5th Eastern Economic Forum, Zvezda Shipbuilding Complex and Korean Samsung Heavy Industries announced the establishment of a joint venture to manage projects for the construction of 42,000-120,000 tonnes deadweight shuttle tankers at Zvezda Shipyard.
The JV has been created upon an agreement on the exchange of experience in the design and construction of shuttle tankers, signed in 2018.
Samsung Heavy Industries will hand over the technical specifications and the rights to base documentation of a detailed ship project to Zvezda Shipbuilding Complex and will also provide assistance in developing working design shuttle tankers documentation together with Lazurit central design bureau.
The Korean company will provide technical support for planning, management, and quality control during the construction and installation works, procurement of materials and equipment, and engineering and technical assistance for the construction of shuttle tankers at the Zvezda Shipbuilding Complex.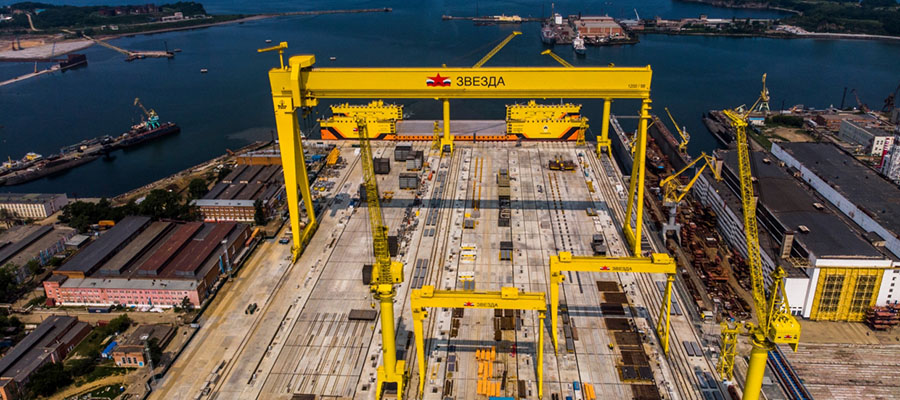 Moreover, Samsung Heavy Industries will carry out training of Russian personnel at its shipyard and arrange a manufacturing practice on similar projects.
The companies also signed the contract for the design of gas-carriers for Arctic LNG 2 project.Samsung Heavy Industries will become technology partner of the project and hand over the technical specifications and the design documentation of the project to Zvezda Shipbuilding Complex.
The Arctic LNG carriers to be built by Zvezda Shipbuilding Complex will meet all the requirements of the Russian Federation regulations which allow determining ships as Russian.
For the 1st time in history, the construction of the vessel of this type will be carried out by a Russian shipyard. It should be noted that the USSR had not manufactured such vessels and had been purchasing them abroad for many years.
The vessel's design allows it to individually pull through the ice of up to 2.1 m thick. The capacity of the gas carrier's power station is 45 MW which is comparable to the capacity of a nuclear icebreaker. These Arctic LNG carriers feature increased environmental safety; in particular, they use LNG as their primary fuel.
To read the article in
Russian
.