Moscow, October 15 - Neftegaz.RU.
President of LUKOIL Vagit Alekperov and the Governor of Nizhny Novgorod region Gleb Nikitin had a meeting on October 14. They discussed current progress on the ongoing projects and prospects for the future development of
cooperation
between the company and the region.
"LUKOIL is one of the pivotal enterprises in the Nizhny Novgorod region. It is of paramount importance that the company proceeds with its major investment projects such as construction of the Petroleum Residue Recycling Facility. The launch of the facility will create new jobs for the locals," said Gleb Nikitin.
Construction of the
LUKOIL
's Petroleum Residue Recycling Facility began in 2018. Apart from a delayed coker, the complex features a diesel hydrotreater, a gas fractionator, hydrogen and sulfur production units, as well as infrastructure facilities. The
facility
's total annual feed rate amounts to 2.1 million tonnes.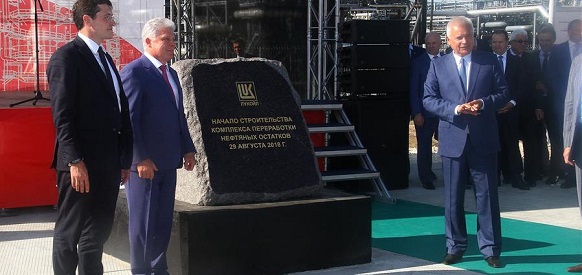 "Construction of the delayed coking-based Petroleum Residue Recycling Facility will significantly reduce the production of fuel oil, help in achieving a 95.5% refinery yield and substantially increase the output of light petroleum products," noted
Vagit Alekperov
.
LUKOIL has been operating in Nizhny Novgorod Region since 2002. Today the Nizhny Novgorod region is one of the key areas for the company. The region is home to LUKOIL-Nizhegorodnefteorgsintez, one of the largest petroleum refineries in Russia, and to LUKOIL-Nizhegorodniiproject, a design institute. High quality fuel produced by the company's refinery is sold through a network of LUKOIL-Volganefteprodukt filling stations.