Kazan, August 26 - Neftegaz.RU. Dmitry Medvedev, Russian Prime Minister, and Rustam Minnikhanov, President of Tatarstan, took part in the video communication format at the commissioning ceremony of the CDU/VDU-6 installation at the Tatneft's TANECO Oil Refining Complex in Nizhnekamsk on August 22.
Nail Maganov, Gen. Director of Tatneft, presented the information to the audience on the development strategy of the largest investment project in the Russian oil refining industry: TANECO, which implementation the aggregate investments of Tatneft amounted to more than RUB 384 billion.
As Nail Maganov pointed out, the
TANECO
complex would provide a synergistic effect in many sectors of the Russian industry. Exclusively Russian engineering, technological equipment, construction companies were involved [n the construction of CDU/VDU-6. The high level of the TANECO's technologies allowed reaching the maximum processing depth to 99%.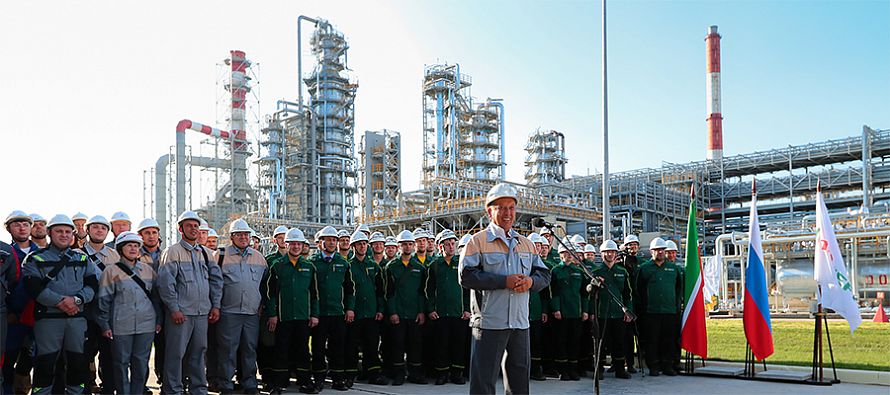 Today the assortment products range of the refinery covers more than 20 types of high-quality products, including diesel fuel, as well as Euro-5 and Euro-6 motor gasoline brands, aviation kerosene, base oils and lubricants. TATNEFT transferred RUB 470 billion to the budgets of all levels for 2018.
In turn, Dmitry Medvedev singled out that TANECO had significantly expanded the company's yielded products line, which were all highly popular necessary petroleum products for the country's economy. As the PM of Russia emphasized, the company was doing a lot to ensure the country's energy security and stabilize market prices for petroleum products.
The estimated capacity of the CDU/VDU-6 installation is 6 million tonnes of crude oil per year, which launch will allow bringing the total design capacity of TANECO in terms of primary oil refining up to 15.3 million tonnes/year.