Budapest, June 24 - Neftegaz.RU.
The ceremony was attended by the Minister without portfolio Responsible for the Planning, Construction and Commissioning of the 2 New Units at the Paks NPP János Süli, senior VPt of ASE - director for the construction of the Paks-2 NPP Alexander Khazin, CEO of the Paks 2 István Lenkei and Zoltán Sáray - the Gen.director of construction division of KÉSZ Holding, which carries out the construction of facilities of the construction base.
More than 80 facilities will be constructed in total: office buildings, assembly shops, storage facilities and others. All these buildings are necessary to ensure the construction of 2 nuclear power units in the future.
"From the point of view of the long-term competitiveness of the Hungarian economy, it is extremely important that Hungarian enterprises and the population be provided with cheap electricity from domestic sources," János Süli said.
The minister noted that NPPs produced electricity on an industrial scale without carbon dioxide emissions. Therefore, the basis of the Hungarian climate policy is the long-term preservation of nuclear power along with an increase in the share of solar energy. The minister recalled that now one third of the country's demand for electricity was provided by imports, mainly through the purchase of electricity produced at coal stations in the countries neighbouring Hungary. Therefore, the Paks-2 NPP project has the key importance not only in terms of achieving climate goals, but also in reducing import dependence.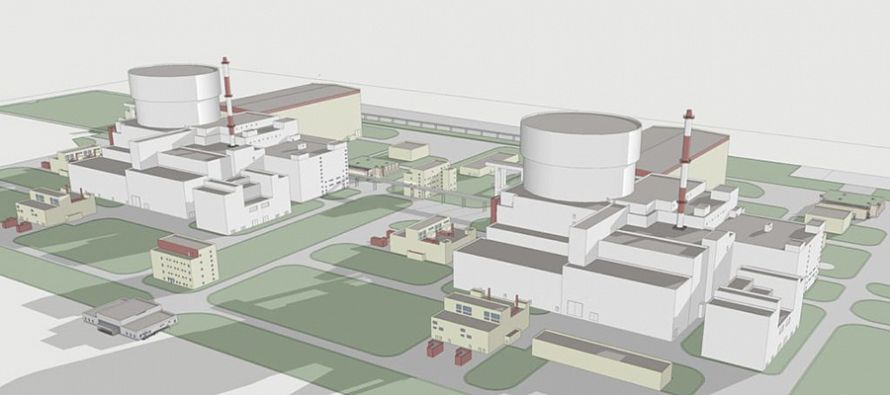 "According to the latest report of the Hungarian Energy and Regulatory Authority for Energy Infrastructure (MEKH), Hungary ranks 2nd in terms of cheap electricity among the EU countries after Bulgaria. In order to preserve this position it is necessary to keep nuclear energy in the energy mix in the long term. Therefore, it is especially important that new NPP units are built," the minister stressed.
Alexander Khazin said that with the start of construction and installation work, the Paks-2 project reached an important milestone. "The building of the construction base on Paks-2 site means the beginning of the preparation of the construction of 2 new power units, and from now on, the work at the site will be uninterrupted. Here will be built 2 of the most modern & safest generation III+ units. It will work reliably and safely for a guaranteed 60 years with the possibility of extending the lifetime, providing Hungary with cheap electricity without carbon dioxide emissions".
István Lenkei, CEO of Paks 2, noted: "The Paks 2 company, as a customer, is interested in ensuring that the project implementation work is carried out with excellent quality. For this purpose, we closely cooperate with the general contractor ASE. The construction of construction base facilities is carried out in parallel with the process of compiling technical documentation of 300,000 pages of implementation license application, which is necessary to ensure the maximum compliance of new units with the strictest international, Hungarian and European safety requirements".