Ashgabat, June 28 - Neftegaz.RU.
Turkmenistan opened today the world's only natural gas-to-gasoline plant in Ovadan-Depe settlement, near the capital of Turkmenistan. The project is worth about $1.7 billion. Turkmen President Gurbanguly Berdymukhamedov attended the Grand Opening Ceremony.
"Presently, the world is experiencing the 4th industrial revolution," Berdymukhamedov said at the opening ceremony. "Turkmenistan is involved in this process through the exchange of technologies and know-how, creation of high-tech production, introduction of intellectual systems and digital transformation of all sectors of the economy."
Synthetic fuel will not have neither sulfur nor nitrogen organic components that affect the environment. "Our country keeps up with scientific progress," Berdymukhamedov said. "We want to make
Turkmenistan
the center of a green economy."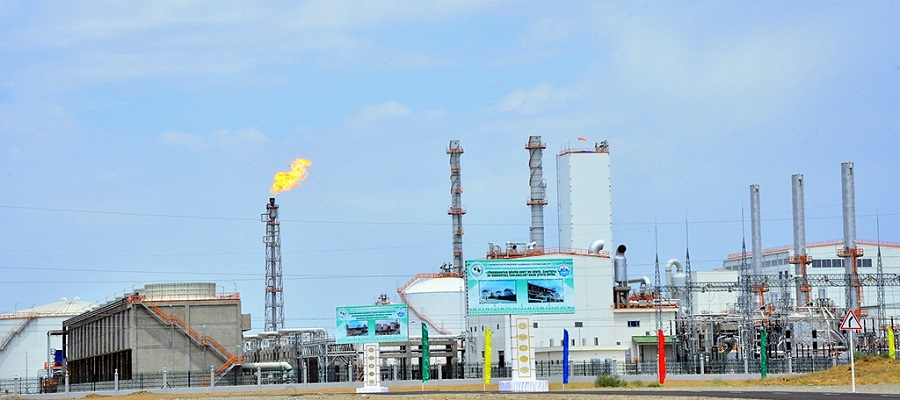 The plant was built by Turkish company Rönesans and
Japan
's Kawasaki Heavy Industries. Construction began in 2014. Super modern petrochemical plant provided with latest equipment and advanced technologies from the famous world manufacturers will process 1,785,000,000 cu m of gas and produce 600,000 tons of A-92 (RON-92) gasoline per year, as well as 12,000 tons of purified diesel fuel and 115,000 tons of liquefied gas.
GTG (gas to gasoline) method was applied at the industrial level for the 1st time in world practice. The contract to build the plant has been awarded by Turkmengas, the project is based on TIGAS technology (Topsoe Improved Gasoline Synthesis) developed by the Danish company Haldor Topsоe.
"We are proud to be part of this forward-thinking and ambitious project. It sets a new world standard for monetizing gas resources in a very effective way and will be a model for other nations and companies around the globe. This is the definitive demonstration that TIGAS is a technologically and financially viable way to produce gasoline from natural gas," says Bjerne Clausen, CEO of Haldor Topsoe.
The newly opened facility has also created opportunities for new jobs. The plant will employ about 800 workers.
Turkmens´s TDH reports that on the opening day the facility was awarded with the Guinness World Record certificate "The first gas-to-gasoline plant in the world".
To read the full story in
Russian
.