Moscow, February 20 - Neftegaz.RU.
Rosneft
continues to be Russia's largest taxpayer. In 2019 the amount of tax payments from activities in Russia amounted to about RUB 3.6 trillion, which corresponds to a 5th of Federal budget revenues.
Rosneft announced a 45% growth in Q4
net profit
, it was RUB158 billion ($2.4 billion), compared with RUB 109 billion in the year-earlier period. RThe company's refining throughput fell 4.1% year on year in the Q4, totaling 28.33 million mt.
4Q 2019 revenues amounted to RUB 2,224 bln ($ 35.2 bln). 12M 2019 sales growth of 5.3% YoY was mainly driven by a higher
volume
of crude oil sales (+20.1%) accompanied by a reduction of the price of crude oil (-6.2%).
4Q 2019 EBITDA amounted to RUB 488 bln ($ 7.7 bln), a decrease of 11.9% in RUB terms vs 3Q 2019. 12M 2019 EBITDA amounted to RUB 2,105 bln $ 32.5 bln).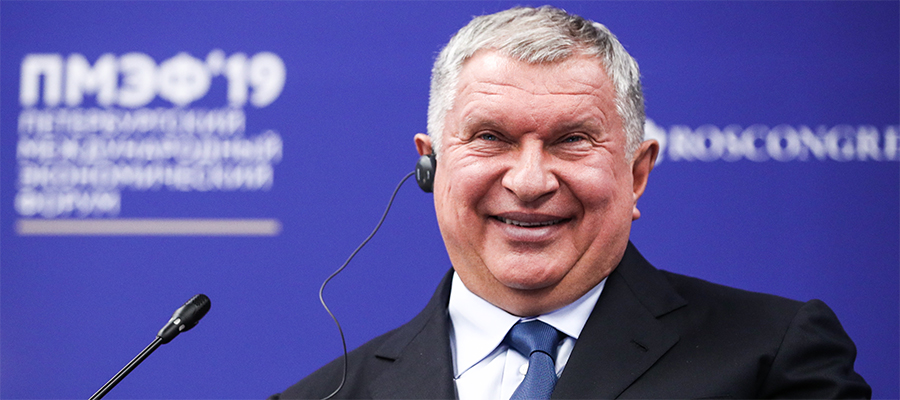 Commenting on 2019 financial results Rosneft's CEO Igor Sechin said: "
In 2019
, Rosneft continued consistent implementation of Strategy "Rosneft-2022" approved by the Company's Board of Directors. At the same time, the company operated under a series of negative factors and market uncertainties. The restriction of oil intake to the Transneft main pipeline system did not allow the
company
to fully realize the potential of its production capacity. Price regulation of oil products at the beginning of the year put additional pressure on the financial results. The volatility of market prices for crude oil and expectation of introduction of new quality standards for petroleum products by the International Maritime Organization in the Q4 of 2019 became additional factors of uncertainty. The OPEC+ Agreement had an additional impact in terms of production volumes and the timing of new projects".
In 12M 2019 free cash flow of Rosneft amounted to RUB 884 billion ($13.7 billion), including RUB 271 billion ($ 4.3 billion) in 4Q 2019. This allowed Rosneft not only to fulfill its obligations to the shareholders to pay annual dividends for 2018 and interim dividends for 2019 in the amount of RUB 283 billion, but also to reduce its financial debt and trading obligations. Their amount decreased by 15.6%, or by nearly RUB 907 billion