Oslo, August 12 - Neftegaz.RU.
Wintershall Dea reported today that it has begun drilling 4 production wells on the Dvalin gas field in the Norwegian Sea, getting ready for the start of production in 2020.
Drilling of the production wells from the Transocean Arctic rig is expected to last approximately one year and follows an intense summer of activity around the Wintershall Dea operated Dvalin development.
Since April there has been high activity at the
Dvalin field
with installation of pipelines and the manifold at 400 m water depth.
In August, a 3,500 t processing module was completed and lifted on to the nearby Heidrun platform in preparation for receiving gas from the Dvalin field.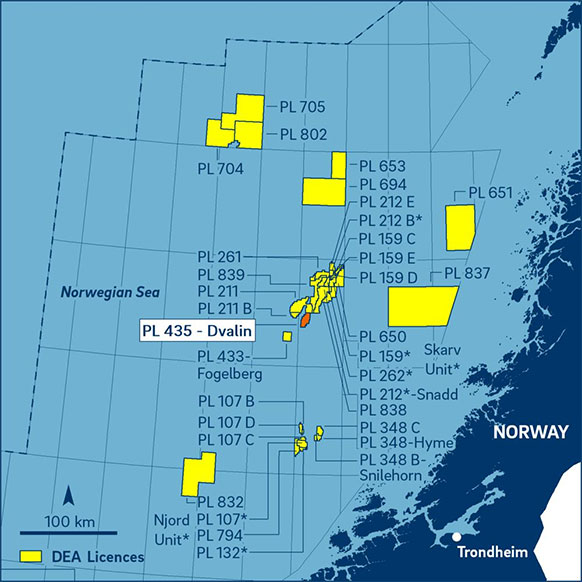 Dvalin is being developed as a subsea field tied back to Heidrun, which lies some 15 km to the northwest. 4 wells will be drilled to a depth of around 4,500 m.
The design philosophy for the wells has focused strongly on HSEQ, in line with the whole Dvalin project to date.The drilling team aims to maintain the project record of having no serious incidents.
The Dvalin gas field in the
Norwegian Sea
is being developed with four subsea wells, tied back to the Equinor operated Heidrun host platform.
The gas from Dvalin will be transported to the Heidrun platform via a 15-km pipeline.From there, it will be sent to the Polarled gas transportation system via a 7.5-km pipeline, before it will be further processed to dry gas at the Nyhamna onshore gas terminal. Finally, the gas will be transported via Gassled to the market.
Partnership: Wintershall Dea (operator 55%), Petoro (35%), Edison (10%).
Location: 259 km north of Kristiansund on the West coast of Norway, 15 km northwest of the Heidrun field and 35 km south of the Skarv field in the Norwegian Sea.
Water depth: 400 m
Estimated reserves: 113.3 million barrels of oil equivalent (boe)
Development solution: A 4-slot template has been installed on the seabed. Flow-lines and umbilical will be connected to the Heidrun platform, 15 km northwest of the Dvalin field. On the Heidrun platform, 2 modules, one 400 tonne utility module and one 3,500 tonne gas processing and compression module, have been installed.
To read this news
in Russian
.