Astrakhan, July 24 - Neftegaz.RU.
Alexander
Novak
, Minister of Energy of the Russian Federation, Vagit Alekperov, President of LUKOIL, and Igor Babushkin, Governor of Astrakhan Region, visited an offshore ice-resistant fixed complex, OIFC (Russian: MLSK-1), at Vladimir Filanovsky field, in the Caspian Sea today.
The guests were able to observe the complete process flow at the platform, beginning from hydrocarbon production all the way to the transportation of finished products. In future, the MLSK-1 infrastructure will serve to develop the infrastructure of other Caspian fields.
The company is also taking an active part in developing the social infrastructure in Astrakhan Region. Among other things, LUKOIL has contributed to the construction of a kindergarten in the region, a of tourist-and-exhibition center and a park, named Petrovsky, in the Astrakhan Kremlin.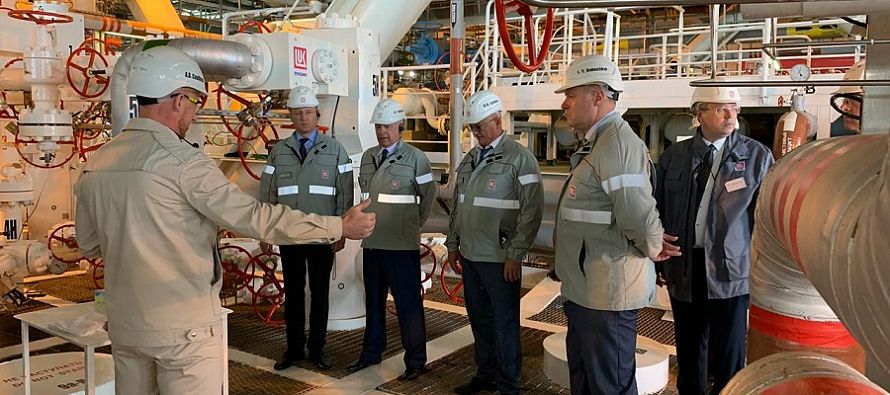 LUKOIL's cumulative output at Vladimir Filanovsky field has exceeded 15 million metric tons. Full-scale commercial operation of the project started in the fall of 2016, i.e. 11 years after the field's discovery.
Currently, the 3rd-stage of infrastructure development is under way. LUKOIL has mounted the wellhead platform topside (mini-platform) on the bearing units in the
Caspian Sea
. The total weight of the structure exceeds 2.8 thousand metric tons.
A self-elevating floating drill rig will drill wells from the wellhead platform. The produced oil will go to the central processing platform of the 1st field-development stage through a subsea pipeline.
Filanovsky field's 3rd development stage aims at bringing its western part into development and at maintaining production at the target level of 6 mln metric tons. Oil production at the wellhead platform is to begin this year. The facility will be minimally manned and almost fully automated.

To read the article in Russian.