The gas consumption of Uzbekistan, Central Asia's most populous nation, reached as much as 43bn cm in 2017, for instance. But the country's gas export contracts are mainly limited to agreements for up to 5bn cm of exports to Russia and 10bn cm of exports to China. In China's case, the exports have never breached the 10bn cm threshold - they stood at between 8bn-9bn in 2018.
But the times they are a changin'. The ongoing drive to reopen Uzbekistan to foreign investors may eventually lead to more formidable gas export volumes. The government has set a goal of raising natural gas production to 70bn cm by 2025 and talks on resuming the construction of the Uzbek-stretch of the Central Asia-China pipeline's Line-D are proceeding.
"We are now in a discussion with Chinese colleagues on Line-D," chairman of Uzbekneftegaz, Bahodirjon Sidikov, told bne IntelliNews during the International Oil & Gas Exhibition & Conference (OGU 2019) in Tashkent. "We already have a schedule and plans for resuming construction of Line-D, but currently no physical activity has started."
Sidikov did not disclose the exact dates for the schedule and plans, but since all Uzbek gas exports to China are accounted for by Line-C of the Central Asia-China pipeline, it may not be a stretch to expect some Uzbek gas to be involved. Though it is entirely possible that Line-D will exclusively focus on annually exporting 30bn cm of gas from Turkmenistan, with Uzbekistan's gas transit to China currently standing at around 40bn cm per year.
Aside from raising gas output, Uzbekistan has introduced measures to lower some domestic gas consumption by bringing in an increasing reliance on renewable energy for electricity generation and raising gas and electricity tariffs for the general population.
The Uzbek authorities have so far this year reached agreements on foreign investment in the hydrocarbons sector worth $1.2bn and are eyeing the possibility of raising this figure to $1.5bn by end-2019, Sidikov said. Many of these projects involve exploration and development of gas fields.
"We have a portfolio of 30 projects currently related to exploration, gas processing, [among other things]," Sidikov told journalists. "These projects are part of our 2025 plan - 15 of these projects are currently ongoing."
The exploration of new gas fields has also been given major focus in the foreign investment drive.
"We have decided to split Uzbekistan into investment blocks for exploration," Sidikov told journalists. Uzbekistan has been negotiating with BP and Socar along with Total and Novatek, with each group of companies having 3 to 4 blocks for consideration. BP and Socar have already agreed to carry out geological exploration in the Samsko-Kosbulak and Baiterek investment blocks of Ustyurt region.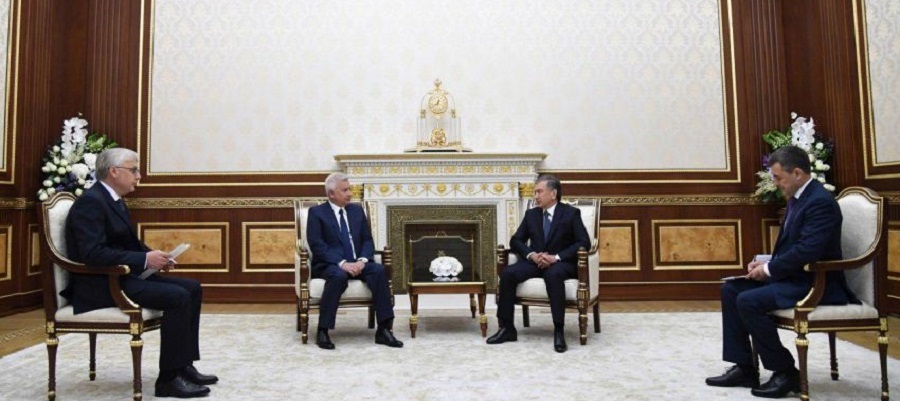 Russian Lukoil, a company with a longstanding presence in Uzbekistan via production sharing agreements, is also considering three additional blocks for exploration. Another Russian Tatneft has signed agreements on geological exploration. In November, Tatneft said it was discussing the possibility of a joint venture with Uzbekneftegaz that would develop fields in Pritashkent district.
To make the Uzbek oil and gas sector more attractive to foreign firms, Uzbekneftegaz is working on restructuring itself into three separate companies before the end of 2019 and is promising to deliver more transparency within the company and the hydrocarbons sector at large.
"We'd like to [reorganise] Uzbekneftegaz as a new company - a company that's more transparent, more open," Sidikov said. "We had a lot of issues attracting foreign investment [due to lack transparency on production figures, for example]."
"In the past we had to receive presidential resolutions to provide private [publicly unavailable] information, which gave us nightmares in attracting investments," he added.
"Uzbekneftegaz is one big company covering all the oil and gas works starting from exploration, to production, refining and the selling of the end-product to the final consumers," he added. "It's a pretty large structure and we don't see this structure being efficient in the future."
While dividing "Uzbekneftegaz into 3 separate companies, the authorities will keep the Uzbekneftegaz name for one of the branches that will retain functions in exploration works, field development and refining of oil products, the chairman noted.
"In terms of our big pipeline system, we want to establish a [separate] 100% state-owned company responsible for transportation of gas from producers to the distribution system," he continued, referring to the 2nd of 3 companies.
"The number of players in field development is increasing," according to Sidikov. "In terms of access to the main pipeline system, they want a government-owned [organisation] in order to avoid conflicts of interest. We would like to establish a state-owned company that will... provide equal access to all producers... taking the responsibility for purchasing all the product from the market, maybe at different prices, but they will make sure that end-users will receive this product at the same price."
The 3rd company will concern itself with regional distribution networks. Sidikov believes that, in each Uzbek region, gas distribution could benefit from private management and investment as state control is less inefficient on local levels. This 3rd ougrowth of "Uzbekneftegaz will attempt to work with private companies in order to lessen the government's presence in regional-level distribution.
Despite the ex-Soviet state's potential for becoming the next major gas exporter in the region, the story Uzbek authorities are trying to sell to investors is one of reshaping the hydrocarbon sector towards a focus on manufacturing and downstream finished products, away from reliance on basic commodity exports. At the heart of this ambition lies Uzbekistan's drive for self-sufficiency, something that was also a concern of Islam Karimov who ruled until the end of 2016, though the results were less than enticing. This push must be handled carefully as it has the potential to clash with the narrative of liberalising the Uzbek economy.
Tashkent hopes to channel much of the planned boost in gas output alongside the freed up gas, resulting from the renewables increase in the energy mix and higher energy tariffs on the population, into the production of fuels and value-added goods. 2 projects presented at OGU 2019 as spearheading this initiative were the $3.6bn Uzbekistan GTL plant under construction in Uzbekistan and the expansion of the Shurtan Gas Chemical Complex.
The former, set to be the 3rd largest GTL plant in the world, will produce petroleum products such as diesel, LPG, kerosene and naphtha and will also have a total capacity of 1.5mn tonnes of synthetic fuel.
Fakhriddin Abdurasulov, general director of Uzbekistan GTL, told journalists at OGU 2019 that over 20% of the plant's construction and 98% of its engineering works have already been completed. The plant is set for completion by the 2nd quarter of 2020 with the official launch scheduled for the Q3. The purpose of the plant, at least at present, is to supplement Uzbekistan's own industries and meet internal demands for fuel.
Following its expansion, the Shurtan project will boost the production of petrochemicals polyethylene and polypropylene while securing the production of pyrolysis distillate as a co-product.
Uzbekistan's energy ministry, Uzbekneftegaz, chemical producer Uzkimyosanoat and Air Products & Chemicals this month signed a project development agreement for the construction of a petrochemical plant based on methanol-to-olefins technology.
The project will rely on a domestic supply of gas to produce "high added value" petrochemical products in order to diversify the economy away from commodities exports, including gold, cotton and natural gas. The plant will manufacture "high-performance polymers", synthetic rubber and high-quality plastics among other products.
All the aforementioned examples mark the beginning of an Uzbek plan to evade the resource curse. The price of this goal is tension between securing an open market economy and economic independence.
Sidikov made no secret of how elements of the planned economy will remain in the energy sector as a new state-run gas pipeline operator provides domestically produced gas at prices equal to those of both foreign and domestic producers operating in Uzbekistan. Processing plants, including the GTL, may grow dependent on price regulation to remain profitable.
Some foreign investors interested in Uzbekistan have told bne IntelliNews that the nation's leadership is wary of China's huge Belt and Road Initiative, as opposed to neighbouring Kazakhstan's full embrace of tempting Chinese investments. The Uzbek skepticism further reinforces the need to keep the economy sufficiently regulated, while providing enough openness to keep foreign investors interested.
All of this results in uncertainty for investors over what exactly the Uzbek model will entail going forward and just how far the gas-rich country is willing to liberalise its economy. The final state of the gas sector, once all the planned reforms have been put in place, may help provide a barometer for progress with the rest of the Uzbek economy.